Insider Knowledge: The lowdown on mouthguards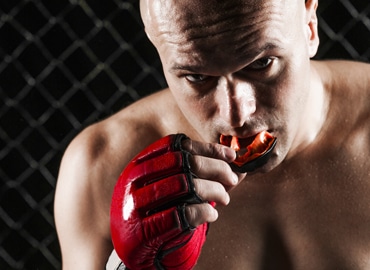 This is how the discussion usually goes whenever NHL team dentists hold one of their formal meetings, such as the one in Nashville at the All-Star Game: a little dental humour ("Randy Mol-ar is still my favorite player of all time") followed by the presentation of the Bobby Clarke Award for beauty dental work. Ha—gotcha. At some point in the proceedings, somebody invariably asks: "What's up with mouthguards? Anything new?" Then, as Toronto Maple Leafs team dentist Charles Goldberg notes, "Less than five minutes later, another subject comes up."
The materials have changed, but today's mouthguards are basically what they were in the 1950s. Adjustments have been made for enhanced comfort and easier breathing, says Goldberg, but essentially what you see is what you get: 90 percent of NHL players wear them (they are not mandated) and each NHL team is responsible for their manufacture, usually at a local commercial laboratory.
Boxers, football players and rugby players have used them for a long time—the biggest area of growth might be basketball. "I've been with the Raptors since 1995, and at that time you needed to twist arms just to get the impressions made," says Toronto Raptors team dentist Peter Nkansah, noting that three-quarters of the current squad have custom-made mouthguards, and about half use them regularly. Anecdotally, players will use mouthguards when facing a particular opponent or if a particularly gruesome mouth injury gets wide attention. "It's really a function of feeling with a lot of them," Nkansah says. And taste, apparently: Steph Curry, whose dangling mouthpiece has become a signature, signed a deal in 2013 to wear MoGo flavoured mouthguards, available in fruit punch, mint, lemon, orange and bubble gum, with the flavour released by pressure on the back of the guard.
GETTING STUCK IN
Mouthguards have been around since at least 1890, when a London dentist named Woolf Krause developed a "gum shield" made from latex produced by the gutta-percha tree to protect boxers from lip cuts. His son Phillip Krause, himself an amateur boxer, modified the design using rubber for a friend, "Kid" Lewis, to use in a welterweight championship fight against Jack Britton, whose corner put up a fuss, claiming Lewis was given an unfair advantage. When "Bold" Mike McTigue was forced to abandon a big fight against Jack Sharkey in 1927 after a chipped tooth lacerated his lip, more fighters decided to use the guard. By 1950, acrylic resin was being used, and UCLA basketball player Dick Perry was the first athlete to adopt the new material, picking up on growing pressure from the American Dental Association for athletes to set an example. Arthur Wood, a Canadian pediatric dental specialist, is credited with inventing the "teeth guard" in the 1950s, and he made its use mandatory when he became head of the Cooksville Hockey Association. Wood never patented his invention.
WHY WEAR THEM?
The benefits of mouthguards for oral protection are apparent, but what about for concussions? "Actually, there's no specific proof they prevent concussions," says Goldberg. "If there's a blow to the chin and the lower teeth hit the upper teeth hard enough, yeah, it can cause a concussion. There's also a second type of concussion where the lower jaw is pushed back into the skull. But a shot to the back of the head? The mouthguard's not going to help." Nkansah agrees, politely calling suggestions that mouthguards reduce concussions "working theories."
WHAT THE HECK IS THAT IN MILOS'S MOUTH?
Thought you'd never ask. It's no mouthguard, that's for sure. Milos Raonic believed a tendency to grind his teeth led to posture issues, so he had a dentist and chiropractor design a device that helps keep his body aligned; he wears it day and night, except when he eats. Think back to those iconic shots of Jose Bautista or other Toronto Blue Jays in 2015, and chances are you'll see a similar slim piece of yellow or red plastic moving around in their mouths. Welcome to alignment-repositioning technology, deemed useful for "training and non-contact and endurance sports." For the past two years, Bautista has worn a device that purports to align an athlete's jaw with his or her centre of gravity, ostensibly reducing muscle tension in the neck, shoulders and back. "The theory behind the device is not all that unsound—that if the jaw is in a neutral position, it won't distract from performance," says Nkansah. "[But] I'm not a big fan of it. I had a Toronto FC player wanting to be fitted for one. I told him that I didn't have the equipment, that to do it right, you need to find the right neuromuscular position. You use electrodes. You freeze the head in the proper position. The player said, 'That's OK, I didn't go through all that last season when I got one and I had the best season of my career.'" Goldberg says hockey players wear them to work out, and that a great deal of marketing has gone into the product. But "there isn't a lot of scientific proof, and we team dentists haven't seen any studies," he adds. "You think we would have by now." Indeed, it would be something to chew on.
Source: Jeff Blair | Sportsnet